Check our Calendar of Walks for Jan - June 2020

Help us to keep our facebook page updated


Next Walks


Due to the Coronavirus - Covid 19 restrictions, all club walks and activities are cancelled until further notice.


Please ignore listed walks on our calendar.


All we can do for the moment is look longingly at the mountains in the distance as we stay within 2 km of our homes!
If you have any photos of nature around you we could show them in our gallery - here's a few to get us started, thanks to our members who are so observant - if you notice any mistakes in naming things please email us and we will gladly correct them.


Wolftrap, Stillbrook and Carroll's Hill on the skyline


Photos

Members have taken photos while on walks and the results can be seen below and in Gallery 2020. Older photos can be seen in Photo Archive.


Scarlet elf cup/cap in Clonaslee Woods in Feb.



Beautiful day on Conlawn Hill, summer 2019.

Bluebell Walks

Members enjoyed the wonderful display of bluebells last year. See some photos of them in Photo Archive.




October Weekend

The club had a very enjoyable weekend away in Cloghane, Co. Kerry. Joe Deering led two lovely walks in Glenteenassig and Sauce Creek and as can be seen members were treated to some fabulous scenery as they walked. Thanks to Joan Ahern for the photos, more of which can be seen in Photo Archive.



Some of the group in Glenteenassig, Co. Kerry



View of An tSás, Sauce Creek, Co. Kerry.



Mahon Falls

On 30th September Murt Broughan and Ann Marie Brennan led a walk around Mahon Falls. Twenty eight members travelled and they were treated to a wonderful day with some spectacular scenery. Thanks to Joan Ahern for some beautiful photos of the day which can be viewed in Photo Archive.



View from Mahon Falls


The club unveiled a plaque in memory of Phil Higgins. More photos in Photo Archive.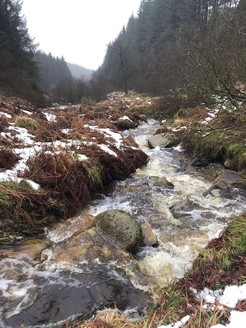 We had company on our Devil's Bit Walk!


Brittas Woods - the snow only adds to a lovely walk!


Walking in Glenregan/ Glendossaun Dec 2017

Click to see photos of previous years' walks in Photo Archive


A.G.M.
The AGM was held in Nov. in Kilcormac Community Centre. Officers for 2020 were elected and it was agreed to leave the membership fee at €20 for an individual and €30 per family. A walk leaders meeting some weeks later arranged walks for 2020.

Our calendar of walks for the first half of 2020- click here.

Officers for 2020 - click here.

Text Alerts

We send out text reminders of walks to members. If you are a member and don't get a text please email info@ardarahillwalking.com with your name and number and we will update our list.


View of Lough Derg taken by Joan Ahern on Moylussa Walk Oct. 2016. (More in Photo Archive)


Click to see some photos of previous years' walks in Photo Archive

Link to beautiful Slieve Bloom scenes

Joining Ardara Hillwalking Club

New members are always welcome. If you are interested in joining check our calendar of walks and just turn up and join on the day. If you are concerned about your level of fitness or the suitability of a walk just ring the listed walk leader and he/she will help you decide. Membership of €20 or €30 family can be paid on the day, or in instalments of €5 per walk. Waterproof walking boots will be necessary on all grade A and B walks


Fog on Forelacka



Ballyvaughan Walks
The June bank holiday weekend saw 24 members heading off to the Burren for two walks led by Joe Deering. The walks matched the brilliant weather - a 20km Black Head Loop and a 10km Lough Avalla Farm Loop walk. Everyone enjoyed the spectacular scenery and the wonderful hospitality extended to our members in Ballyvaughan. Go to Photo Archive to see images from the weekend.



Some of our members at Ballyvaughan Lodge with hosts Gerry and Pauline


Hazel Wood & Heaney's Brook Walk
Valentine's Day brought 33 very keen walkers out for John Scully's walk. Underfoot conditions were sticky but the day was good and everyone enjoyed the trek up Paul's Lane, the visit to the bronze age burial mound, strolling through the Hazel Wood and the hike up around Heaney's Brook and back to Cadamstown via the nature trail.



Along the Silver River


Grand Canal Walk

The club got the year off to a great start with a walk along the Grand Canal last Sunday. Thirty very eager walkers turned up for the 15 km walk from Tullamore to Pollagh. The walk leader was John Scully, ably assisted by his brother James. The walk was most enjoyable and also very educational - James filling in the history of the canal and the areas it passed through in his entertaining way. The walkers heard the story of Shragh Castle, they took a slight detour to Kilbride Churchyard and got the lowdown on Ballycowan Castle and how it was undermined. They passed along two aqueducts, the Huband and the Charleville, that took the canal over the Tullamore River and over the Clodiagh River. The walk finished in Pollagh where Joe and Josie Gallagher, The Pull Inn, very generously provided food and refreshments for everyone.


At Sragh Castle



Ger Moss - A Tribute

Ger Moss passed away in September 2014. He was one of the founding members of the club and one of the most popular and enthusiastic leaders the club has ever had. Fellow member and leader Pat Culleton wrote a lovely tribute to Ger which can be accessed here. The club also honoured Ger's memory with a walk in September and erecting a plaque in Glenbarrow.